Careers at AmpleTech Refresh
In business it takes both determination and teamwork to get from point A to point B and our team has both. Over the past 16 years, we've grown to be recognized as a R2v3 national leader in ITAD/ITAM, Data Center/End User Relocations and IT Smart Hands services. …and we believe our amazing employees are behind it all.
Open Positions
Operations Manager will be responsible for building, growing, and leading a team of "A" players. Read More
Warehouse Associate is responsible for all aspects of warehouse functions. Read More
Audit Technicians are responsible for testing / auditing, data clearing and bios collection, functionality testing and reporting of all types of IT equipment by using a variety of software. Read More
Email: hr@ampletechrefresh.com
Phone: 480-498-8200 Ext 102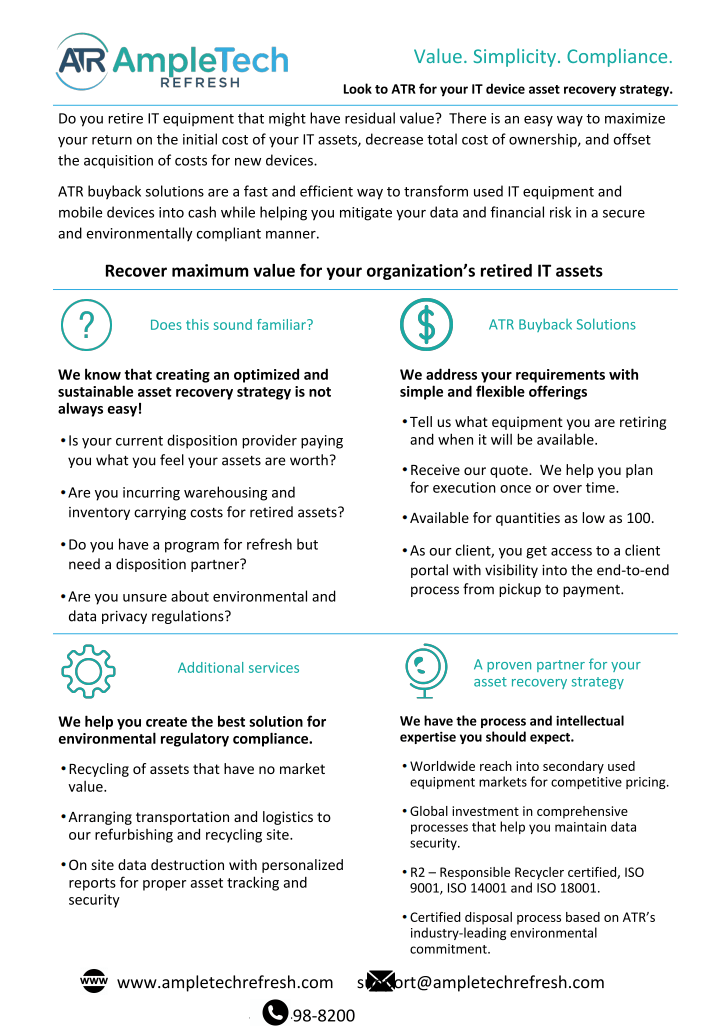 Established originally as an electronics distributor in 2007. AmpleTech Refresh pivoted into the ITAD (IT ASSET Disposition) business with all our remarketing relationships from previous business experience. ATR is now a large volume processor and recycler of electronics. We rigorously adhere to federal, state, and municipal guidelines for proper handling of electronics assets. We offer a full life cycle services to enterprises, schools. Our company was built on integrity, excellence, and hard work.
Buyback Solutions
Download our Buyback Solutions document and find out how AmpleTech Refresh can help your company maximize your ROI from your unused and retired IT assets.
Why Us?
ATR's mission is to be a global leader in the IT lifecycle services through aggressive sourcing partnerships, and flawless operations. We make a difference every day for the environmental protection by reusing, recycling, and reducing electronic toxic waste.
~AmpleTech Refresh
RENEW. PROTECT. RECOVER