Data Center Decommissioning and what to know
No data center ITAD project can be accomplished without decommissioning your equipment and transporting it. Why pay your in-house experts a premium price just to de-install hardware when they could be working on strategic initiatives for your organization? ITAD companies offer a variety of onsite services specific to your needs, including technical de-installation services at your facilities for all types of IT assets-from data center to desktop equipment.
 Questions to Ask when inquiring about Decommission Services
Has the vendor provided you with a detailed statement of work outlining how they will handle every aspect of the data center decommissioning project?
Prior to the project, ask the vendor to do a walk-through with you showing how they will execute each step.
Find out if the vendor outsourced any aspect of data center decommissioning, including labor or data destruction.
Inquire about responsible recycling
Ask for the references for the last three data center decommissioning clients the vendor serviced.
Ask if the vendor will be able to recover value from your retired IT hardware. If so, find out how much and when you could expect to receive the compensation.
Ask how data destruction will be handled. If the solution is software-based, find out the name of the software.
Learn about the vendor's security protocols around data destruction.
Ask what certifications they hold.
Ask how metals and other components will be disposed.
Benefits of using a professional ITAD partner
Planning and logistics
Transportation
Certified engineers
Secure chain-of-custody
Off-site warehousing
Supply chain management
Full reporting
Lift and Shift Transport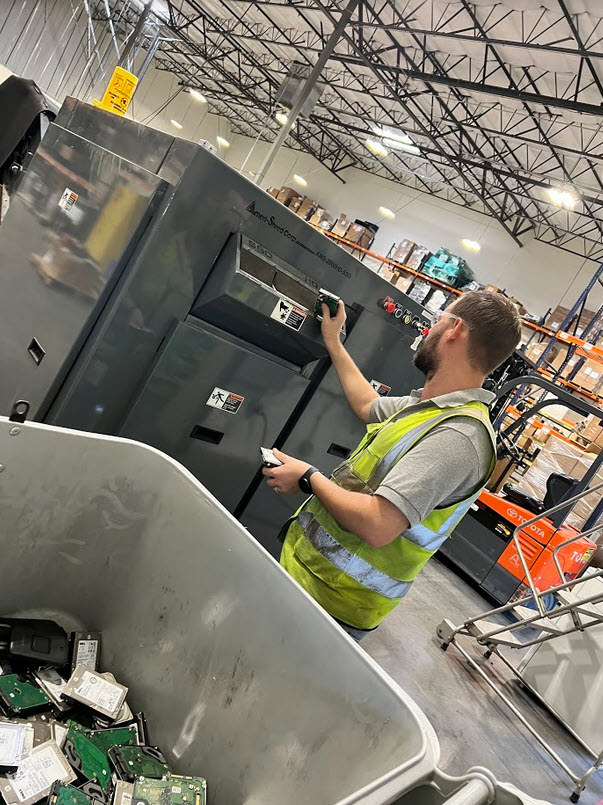 Professional, trained technicians are utilized to perform the de-installation and ensure a secure chain-of-custody. Let us design and plan your decommission process and handle your project management every step of the way. we have the national capabilities to handle every data center decommission service you require – including de-installation, packing, off-site warehousing, and Lift & shift Transport. Reverse Logistics ATR's network of logistic partners can customize a solution that meet your specific needs. Solutions range from simple to more complex secure transports for sensitive data storage devices. With our secure logistics, we provide our clients with the most affordable pickup and transportation services in the industry. We assist with every phase involved during the logistics process, from technical de-installation to final delivery to a secure processing facility.
Finally, when decommissioning a data center, use a well-known company that does asset removal, asset destruction, chain of custody, provides certifications of destruction for hard drives, and proper disposal of toxic materials. All of it needs to be very well documented not only for the environment's protection but for your company's protection, as well. You don't want to wake up one morning and find out that your equipment was found dumped in a landfill.
In the end, it isn't the liability of the disposal company if servers containing customer or medical information turn up at a used computer fair, it's the fault of the owners. The creator of e-waste is ultimately liable for the e-waste.
ATR is certified by R2v3 for electronics recycling and data destruction, ISO 9001 in Quality Assurance, ISO 14001 for Environmental Management and 45001 for Health and Safety, Member of WBENC Contact us today to scheduled a free consultation (602) 755-4887 or INFO@AMPLETECHREFRESH.COM
---